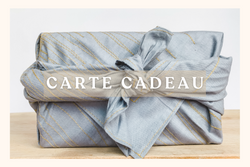 latibulle
LATIBULLE GIFT CARDS
The best gift to give is one that comes from the heart. ❤︎ Whether it is for your better half, your dear Granny, a treasured heirloom for your little coconut or for a loved one who's grieving, our gift cards are ideal for all occasions.
Choose the desired amount to offer and you will receive a gift card directly by email.
Simple, efficient and zero waste!
With no expiration date, our gift cards allow you to spoil your loved ones exactly the way they want whenever you want.
Send us more details! Is it a gift? A treat for you? What does this memory symbolize? Tell us your story and we'll be able to create something truly unique for you ❤︎